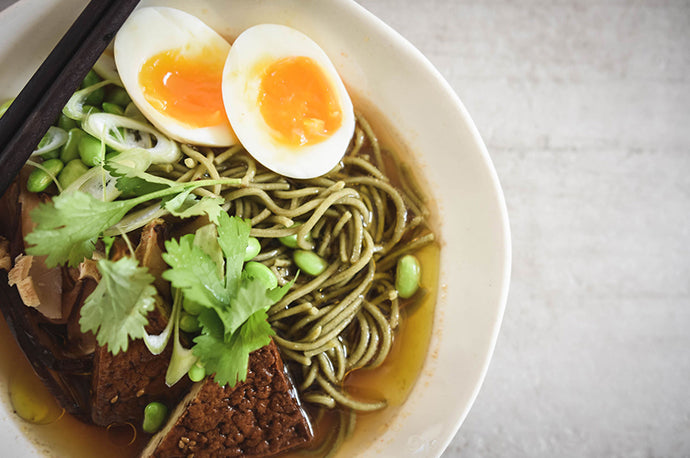 GLUTEN FREE SOBA NOODLES WITH MATCHA
A simple, warming and beautiful recipe made with our S+I Zen Matcha. 
Ingredients
NOODLES
1 Cup buckwheat flour
1/3 Cup arrowroot powder
2 Tbsp S+I Zen Matcha
1/4 tsp. sea salt
1 Tbsp. psyllium husk powder + 4 Tbsp. water – allow to thicken for 2 minutes
1 Tbsp. olive oil (or any mild-flavoured oil)
7–8 Tbsp. water
BROTH
½ onion
2 garlic cloves
grated knob of ginger
grated knob of turmeric
2 Tbsp Miso
4 Cups water
How to Make
NOODLES
1. In a medium bowl, whisk together the flour, arrowroot, matcha and salt until well-combined.
2. Add the thickened psyllium powder mix, oil, and start with the first 6 Tbsp. of water. Mix with a wooden spoon until a nice dough forms. The dough should be soft, not dry, if needed add a dash of water or a sprinkle of flour and continue mixing until a malleable dough forms.
3. Bring a pot of 8 cups of water to a boil.
4. Divide the dough into two smooth balls. Flour your surface with more buckwheat flour and roll out one dough ball as thin as you can. The dough should be very soft and easy to work with.
5. Using a knife or pizza cutter, create thin strips. Sprinkle with more buckwheat flour to prevent sticking together.
6. Pour into the boiling water in two batches and cook for approximately 2 minutes. Drain and rinse in cold water, this stops the noodles from cooking and removes excess starch that makes the noodles clump together.
BROTH
1. Lightly caramelise the onion, garlic, ginger and turmeric over a low heat. 
2. When the onion is translucent add the miso and water, mix to combine.
3. Simmer and remover from the heat

ASSEMBLY
Prepare your ingredients, I use noodles, Tempeh, wilted Asian greens, lightly cooked mushroom, edamame beans and a soft boiled egg.
Pour the hot broth over the prepared bowls, top with coriander. Serve!