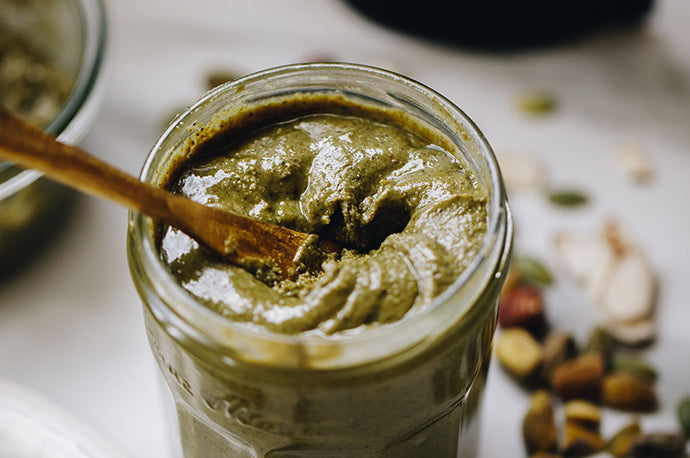 Matcha Nut Butter
Packed full of goodness, this deliciously creamy nut butter is incredibly moreish and so satisfying too!
Ingredients
Makes 2 cups or 500ml
1 cup shelled
 unroasted pistachio nuts
1 cup shelled
 unroasted hazelnuts
1 cup flaked
 almonds
1 cup untoasted
 pumpkin seeds
1 tbsp 
Storm+India Power
Matcha
Seeds of 1 vanilla bean
2 to 3 pinches sea salt
How to Make
1. Preheat
the oven to 150°C.
2. Spread the 
pistachios, hazelnuts, almonds and pumpkin seeds in an even layer on a baking
sheet. Roast for 5 to 10 minutes or until fragrant, being careful not to burn
 them.
3. Transfer 
the hot nuts and seeds to the bowl of a food processor fitted with a metal
blade. Add the Power Matcha, vanilla and salt. Process on high for 10 to 20 minutes,
depending on the strength of your machine. Stopping to
scrape down the side of
the bowl when necessary. At first the texture will be powdery, but be patient.
 The nut butter is ready when it turns smooth and creamy.
4. Store the nut butter in the refrigerator. It will keep well for a few weeks.