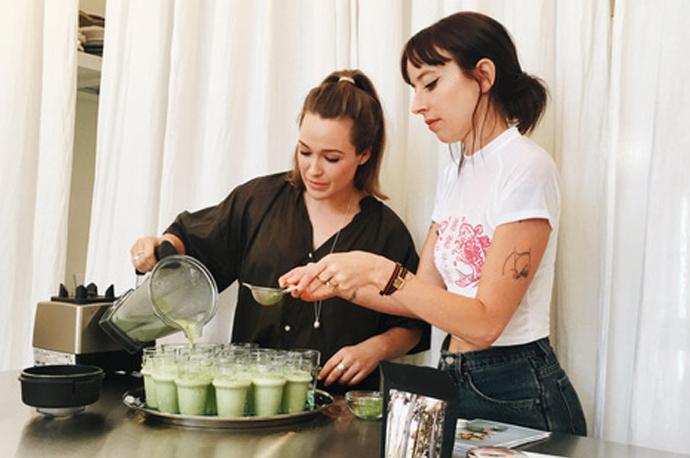 A MATCHA MADE IN HEAVEN
Jordan Rondel is the culinary goddess behind The Caker, crafting specialty cakes in Auckland. We teamed up with her last year for Karen Walker's Summer Pop Up, Playpark, and last week collaborated again in a matcha masterclass. Read Jordan's blog about this delicious event below!

MY MATCHA MASTERCLASS WITH STORM & INDIA
Last weekend I hosted a masterclass in collaboration with India Bellamy, who is one half of the beautiful tea sisters, Storm & India. Together we share an obsession with matcha, and so our class focused on teaching people how to incorporate this potent green powder in different beverages as well as in baking. Storm & India have just released a Power Matcha Tea, which is certified organic and abounding in antioxidants, and it tastes like heaven. India demonstrated how to make four stress relieving and awakening drinks involving matcha - an iced latte, a green smoothie, a pina colada and a milkshake. I then taught guests how to bake, ice and decorate a sour cherry and matcha cake.
MATCHA MINT MILKSHAKE
Everyone loves a milkshake, and this one is yummy and uplifting! Recipe makes enough for four servings.

YOU WILL NEED
4 cups homemade almond milk
4 majool dates
1 tablespoon vanilla essence (preferably with seeds)
1/2-cup fresh mint
Pinch of sea salt
3 cups ice
3.5 teaspoons Storm & India Power Matcha
2 tablespoons melted coconut oil

MAKE YOUR MILKSHAKE
Combine all ingredients in a blender until smooth and creamy. To garnish, try sifting a little matcha on top. Enjoy!

Visit thecaker.co.nz or contact Jordan – orders@thecaker.co.nz
Photo by Albert Cho