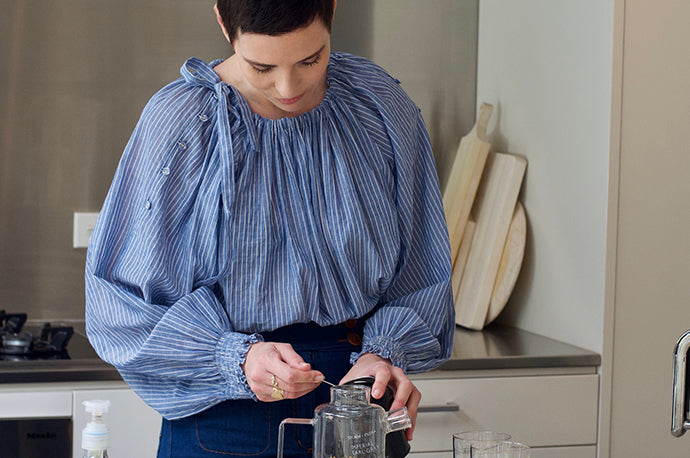 Daily Rituals with Karen Walker
New Zealand-based designer Karen Walker has dominated the international fashion scene for years, with covetable work spanning across clothing, eyewear, home ware and industrial paints. Lucky for us, she is also a self-confessed devotee to our Imperial Earl Grey tea — never without her home and office pantry running on healthy stock levels.
We visit Karen at her home and enjoy a fresh brew in the company of her dog Lilac and an array of photographic prints by some of her favourite artists.
On daily rituals...
My day starts early - 6am-ish. In winter I always start the day by lighting the fire, listening to the news and making a pot of tea (Storm and India's Imperial Earl Grey). That's my quiet time before the rest of the household comes downstairs. I love that 15 minutes of peace and quiet. On Sunday mornings I take some time to myself by the fire (in winter) or on the front porch or in the back yard (the rest of the year), have my weekly FaceTime chat to my brother in the UK and do the weekend's cryptic crossword. 
A moment with tea each day…
First thing in the morning at the kitchen bench, as soon as I get to my desk at work, mid-afternoon pick-me-up and in the evening by the fire or catching up with something on TV – always Storm and India Imperial Earl Grey.
Karen's favourite things to cook at home…
Pretty much anything from Yotam Ottolenghi – from his latest book, Simple, I'm especially loving the roasted whole cauliflower and the pea, za'atar and feta fritters. I also love Sarah Tuck's Coming Unstuck – especially the vege & lentil curry pies. And, of course, everything Jordan Rondel does is fabulous, my favourite being her apple and rosemary crumble.
Karen's favourite space to be at home…
In winter sitting by my fire is pretty hard to beat – reading, playing chess, gazing at the flames. I also love my cosy sitting room with plush carpet and leather couches. In summer it's the back yard with my feet in the pool.
On family traditions...
From my mother and grandmother, I inherited my love of words and precision – so beware spelling mistakes and misplaced apostrophes! I also inherited from them my love of crosswords (I usually have one on the go) and Scrabble (I always have Words with Friends on the go with buddies). 
On maintaining a healthy lifestyle...
Daily dog-walks, yoga most days, tennis once a week, meditation every other day, reading every night before bed, cooking something nice every other night. That seems to do the trick. 

On keeping creative endeavours fuelled...
I just love what I do and the work we create and that keeps me energised.