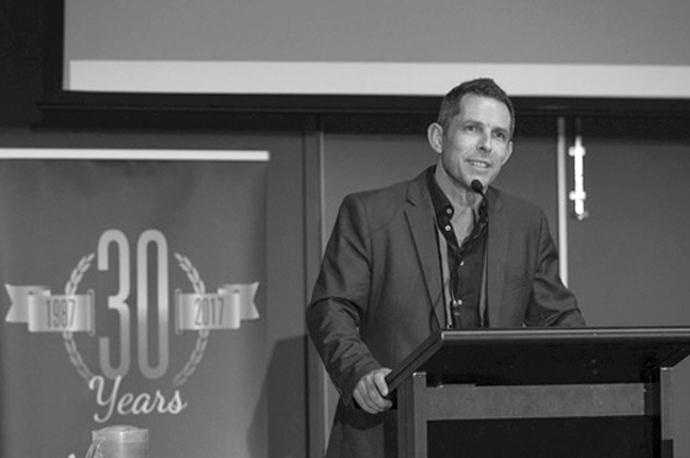 THE TRUTH ABOUT ORGANICS

Andrew Monk has been involved in the organics industry for nearly 30 years. He is the Chairman of Australian Organic, the body responsible for overseeing, supporting and certifying thousands of Australia's organic and biodynamic producers. Andrew is also chairman of the board at Murray River Organics, the leading global supplier of organically certified dried vine fruit. He talked with us about organics, tea and Storm and India's mum.

WHY SHOULD WE BUY ORGANIC?
Certified organic products are ethical, socially responsible and environmentally friendly. Buying certified organic products means supporting organic farmers, manufacturers, retailers and the organic industry as a whole. To avoid exposure to nasties, consumers should look for a certification logo on products, like the Australian Organic Bud logo.

WHAT DOES CERTIFIED ORGANIC MEAN?
If a product is certified organic it means that it has followed the strict regulations of an organic standard throughout the entire supply chain. To be certified organic means to grow or manufacture a product free from synthetic pesticides, herbicides, hormones and antibiotics. Livestock must be free to range and pasture-fed, seed must be non-GM, and the process must be water efficient and biodiversity friendly. Producers, processors, manufacturers and retailers of food, drink, fibre, skincare and cosmetics can be certified organic.
YOU HELP OVERSEE AUSTRALIA'S ORGANIC PRODUCERS. HOW ARE YOU FEELING ABOUT THE STATE OF OUR ENVIRONMENT AND HOW WE'RE LIVING WITH NATURE?
We don't live in nature – most of us anyway – and more humans every day are moving to cities to live. Most now have been born in a city and will rarely (and some never) get into real nature, let alone farming land. That is a worry for the world in terms of those who vote in policy makers who in turn may care less for our farming environment and nature generally. On the upside I am an optimist and also a believer that humans are survivors and incredible innovators. Plus, there is the streak in us that does think inter-generationally – about our children – and therefore there is hope for us in doing things, and taking action, to make our world a beautiful and livable place now and longer term. Farming and buying organic foods is one simple way all humans can take action and "vote" daily for a better planet, and that is something I feel very confident and comfortable about. But lots to do to turn all our food production on planet earth into organic/regenerative farming while also protecting our nature reserves and biodiversity. We still know truly so little about the planet we inhabit.

SO HOW DO YOU KNOW DOOLEY, STORM AND INDIA?
I know Dooley from way back (last century!) in her organic pioneering days with Bellamy's in Tasmania, including the apple farms. We have shared many a laugh and a tear through the years on all manner of things both business and personal, and I have watched her bring up her amazing four children, of whom Storm I know best. If a man had half the achievements both personal and business that Dooley has under her belt there would be some new Nobel prize created for that!

IS TEA A DAILY THING FOR YOU?
More than a daily thing. Although I do have to confess to also being a coffee drinker! A peppermint, a ginger and lemon or a green tea are all favourites, along with an occasional indulgence with a milky black tea or a chai (not to mention iced teas!). All have their own personalities and times to tea, which is one of the particular things I love about this space called "tea".

WHO WOULD YOU LOVE TO HAVE TEA WITH? 
(ANYONE IN THE WORLD AND HISTORY?)
Gosh what a question, so many people I could choose... Alexander the Macedonian (the Great) would be one – I would love to have a long afternoon of iced teas with him (after perhaps an afternoon of riding on his famed horse Bucephalus) and understand if he had managed to live past his 30s what his plan was going to be after having conquered Persia and much of the Indian subcontinent.

Visit Australian Certified Organic at aco.net.au