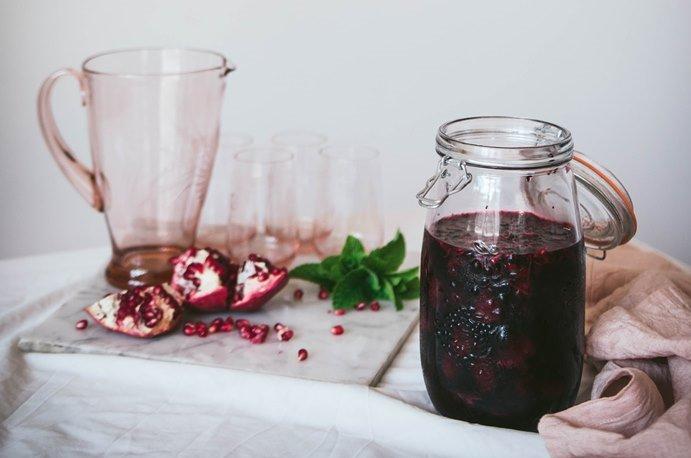 Blackberry and Mango Passion Shrub
Shrubs are one of the oldest beverages to date. Vinegar is infused with fruit, (and in this case tea) for a week, it is then strained and simmered with sugar. The result is a deliciously sweet (with just the right amount of acidity) concentrate to add to soda water, perhaps a dash of gin if you are so inclined.
Shrubs are very easy to adapt; you can swap blackberries for melon or mango. As long as the general ratios of fruit, vinegar and sugar remain, 2:1:1 you'll be fine. 
Ingredients
4 Cups berries
4 Tbsp Mango Passion Tea
2 Cups Vinegar (either apple cider or white wine)
2 Cups sugar
How to Make
1. Place the berries and tea in a large jar, pour over vinegar and stir, place in the refrigerator for one week.
2. Strain the mixture through some muslin into a large pot, press the berries slightly to remove all the liquid.
3. Add the sugar to the pot and stir over a medium heat. Once boiling, stir occasionally and allow to simmer for several minutes (3-7).
4. Turn off the heat and once cool, pour into a jar, and keep in the refrigerator.
5. To make each drink pour 1/3 cup of shrub syrup into a glass, top up with soda water, add ice and any garnishes, mint, pomegranate or fresh fruit are my favourites.