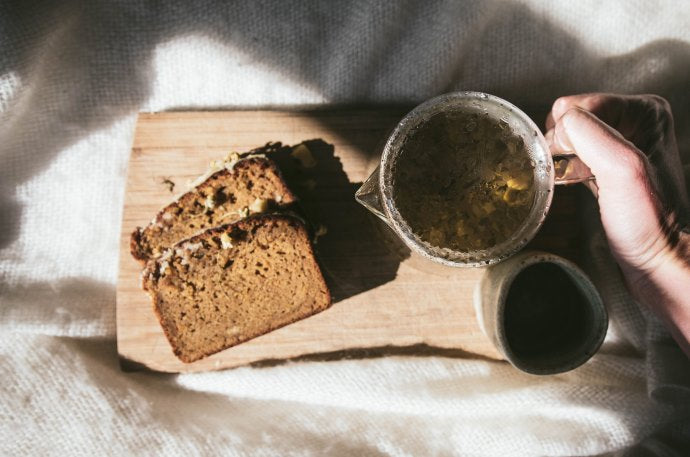 Chamomile and Manuka honey Tea Loaf
The perfect marriage of chamomile and Manuka, so earthy and sweet, the loaf has a tender crumb and a simple glaze.
Ingredients
1 c almond milk (soy or cows work as well)
3 Tbsp Storm and India Chamomile Blossom tea
110g butter
160g honey (I used Manuka but any will work)
3 large eggs
vanilla extract
1 ¾ c spelt flour
¾ c almond meal
2 Tsp baking powder
1 tsp salt
Zest of an orange
GLAZE
1 c icing sugar
1 Tbsp orange juice
How to Make
Line a loaf tin and preheat you rover to 170.
Pour the milk into a saucepan, add the chamomile tea and stir. Gently bring to a simmer and turn down the heat slightly. You don't want the mixture to boil or simmer rapidly but rather gently heat and steam. Maintain this heat for three minutes then remove from the heat, set it aside until room temp.
Once the milk is room temperature, strain into a bowl reserving the milk.
In another bowl cream the butter and honey for three minutes or until well incorporated and slightly whipped.
Add the eggs one at a time until incorporated, if the mixture splits here do not worry, it will come back together with the addition of flour and milk.
Now add the almond meal, vanilla and orange zest followed by increments of flour and milk, stirring until combined.
Pour into the loaf tin and bake until ready, the top should spring back when lightly touched, about 25-30 minutes.
Remove from the oven and let it sit on a cooling rack for 10 minutes before removing from the pan, wait for the loaf to cool completely before glazing.
GLAZE
Mix together, you may need to add more icing sugar or juice to get the right consistency.
Pour over the loaf and garnish with a few chamomile buds.