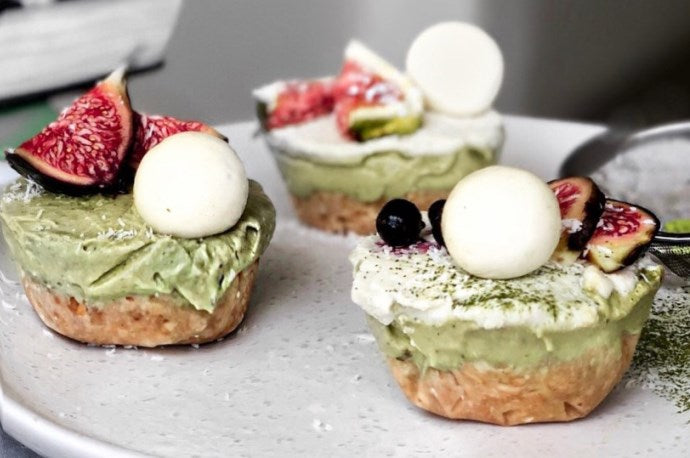 Matcha Mousse Cakes
These vegan Matcha Mousse Cakes have a delicious macadamia crust, matcha mousse filling, topped with seasonal fruit. 
Ingredients
BASE
1 Cup of Roasted Macadamia & Cashew mix
2 tbsp Coconut butter 
1 tbsp Honey
FILLING
4 tbsp Macadamia/Cashew milk
1 tbsp Coconut butter 
How to Make
1. Place roasted nuts in a food processor then mix it with honey and coconut butter and pulse until combined.  2. Press this crust in a muffin tin and put in a freezer. 
3. Prepare second mousse layer separately in your food processor. You need to achieve a nice smooth consistency. 
4. Begin scooping your filling into your muffin tin. Fill them to the top and again put back in a freezer.
5. Next melt your cacao butter, keep it in the pot on a low heat, add nut milk, honey and coconut butter. Stir it all well together then start adding slowly coconut flour until you get a thicker texture. Blend the mixture well so it will help to dissolve the flour. 
6. Use a fork and stir quickly until you have a creamy texture. 
7. Cover your cakes with a last layer and place it again in freezer.
8. Decorate your cakes with different berries, desiccated coconut, matcha powder, figs and macadamia nuts. I choose delicious macadamia from GoodForYou shop covered in a white chocolate. 
9. Roasted nuts brings such an amazingly delicious flavour and also seems to be easier to digest.