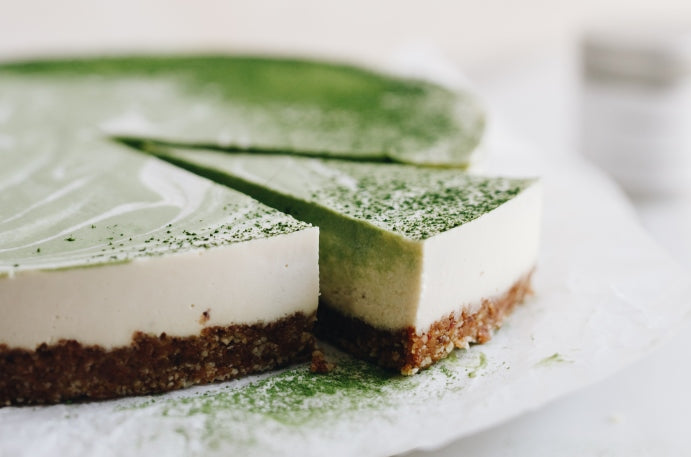 ZEN MATCHA CHEESECAKE
This Zen Matcha Cheesecake recipe is vegan, gluten-free and refined sugar-free. It is also delicious and is incredibly versatile with being able to freeze it and then top with seasonal berries.
Ingredients
1 1/2 cups raw cashews (soaked overnight in water)
1 tsp organic vanilla extract 
1 medium lemon, juiced 
1/4 cup light coconut milk (or sub full-fat coconut milk)
1/4 cup melted coconut oil
1/2 cup maple syrup 
1/4 cup coconut yogurt
1/4 tsp sea salt
11/2 tsp Storm+India Zen Matcha
1 cup packed Medjool dates
1 1/2 cups raw almonds
1 pinch sea salt
How to Make
1. Add cashews to a bowl, cover with water and let soak for 6-8 hours or overnight. Drain well and set aside.
2. Add dates to a food processor and blend until small bits remain and it forms into a ball. Remove and set aside.
3. Next, add nuts and salt and process into a meal. Then add dates back in and blend until a loose dough forms - it should stick together when you squeeze a bit between your fingers. If it's too dry, add a few more dates through the spout while processing. If too wet, add more chopped almonds.
4. Line a standard pie, round cake dish, or 7-inch springform with baking paper. Then add crust mixture and carefully press with fingers to distribute.
5. To pack it down, use a flat-edged drinking glass lined with baking paper and really press it down, pushing some crust up the sides. Place in the freezer to firm up.
6. Add all filling ingredients except Zen Matcha to a high-speed blender and blend until creamy and smooth, scraping down sides as needed. If it has trouble blending, add a bit more coconut milk.
7. Taste and adjust flavor/sweetness as needed, adding more coconut yogurt or lemon juice for tang, maple syrup for sweetness, or vanilla for vanilla flavor.
8. Pour 2/3 filling into the crust and tap a few times to release any air bubbles. Set aside.
9. To the remaining filling, add the Zen Matcha powder. Blend until creamy and smooth. Then taste and see if it needs more matcha. Add to the filling in a swirling motion. Then swirl a few times with a spoon or a chopstick to create more of a swirl. Tap on the counter to release any air bubbles.
10. Cover loosely with plastic wrap and freeze until set - about 3-4 hours depending on size of dish. When set, it will be firm to the touch.
11. To serve, set out of the freezer until slightly soft to the touch - about 15-20 minutes. Then slice with a hot knife for easier slicing. Top with fresh seasonal berries.
Once this cheesecake has been frozen, it can be stored in the refrigerator up to 3 days, but it will become quite soft. For this reason, we recommend storing it in the freezer and setting out for 15-20 minutes before slicing/serving to enjoy the best texture.