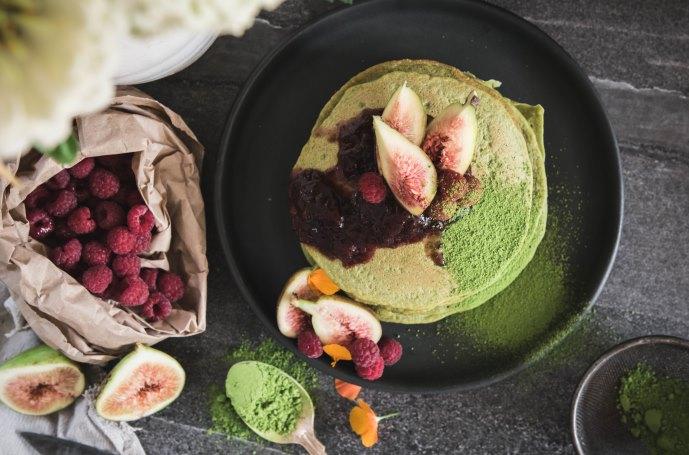 AUTUMN MATCHA PANCAKES
These Matcha Pancakes are gluten-free and high in antioxidants. They are pictured here topped with fresh raspberries, figs, a dollop of maple and dusting of Mood Matcha.
Ingredients
For 2 serves
2 organic eggs
2 tablespoons artisan maple
1½ cups organic spelt flour
2 teaspoons baking powder
2 tablespoons coconut milk powder*
1½ cups water
Pinch of salt
3 tablespoons Storm + India Mood Matcha
*If you'd prefer, use 1½ cups of plant-based milk instead of the coconut powder and water
How to Make
1. Whisk together the eggs and maple.
2. Add the remaining ingredients (don't forget to sift the flour, baking powder, and Mood Matcha).
3. Whisk to combine.
4. Heat a cast-iron skillet to medium, place a dab of coconut oil on the pan.
5. When hot, pour 1/4 cup of batter onto the skillet, flip over when bubbles appear on the top of the pancake. Cook on the other side for a minute.
6. Remove from the pan and repeat with the remaining batter.
Serve with coconut yogurt and fresh fruit of your choice.