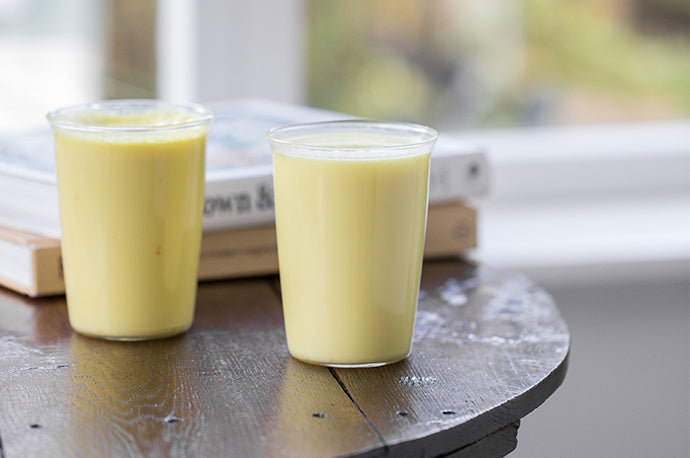 Turmeric + Ginger Latte | Cook at Home
Turmeric + Ginger is our best selling plant-based latte that we make in our Organic Caravan. We always make a larger amount place into a glass jar and store in the fridge. The fresh Turmeric + Ginger paste will keep for approximate 5 to 7 days.⁠

SHOPPING LIST⁠ 
fresh turmeric root + fresh ginger root + coconut sugar + coconut oil + sea salt + plant-based milk.⁠
You will find fresh turmeric root at your local supermarket or greengrocer.
Phone your local store to check if they have the fresh ginger and turmeric available.⁠⠀
Ingredients
Serves 1
1 tsp peeled and finely chopped fresh turmeric
1 tsp peeled and roughly chopped ginger
1 tbsp coconut sugar
2 tsp coconut oil
1 pinch sea salt
1 cup almond or coconut milk

How to Make
1. Combine turmeric, ginger, coconut sugar, coconut oil, and sea salt in a blender and blend until smooth. We always make a larger amount, placing it into our glass jar.⁠ We recommend using 2 tsp of the fresh paste to a cup of milk.⁠⠀
2. Heat almond or coconut milk in a small saucepan over medium heat until just simmering.⁠⠀
3. Pour the hot almond or coconut milk into the blender with your Turmeric + Ginger paste and blitz until smooth and frothy. Pour into a glass and top with bee pollen or finely ground black pepper⁠.
TIP
- Wear gloves to peel and grate the turmeric root⁠.
- Peel the ginger and turmeric root otherwise you will have a gritty taste in your latte⁠.
- Finely grate the turmeric and ginger root⁠.
HEALTH BENEFITS⁠
Ginger + Turmeric is jammed packed with antioxidants and anti-inflammatory properties.
Enjoy, and share your photos with us on Instagram or Facebook, tag us @stormandindia #cookathome #staysafe