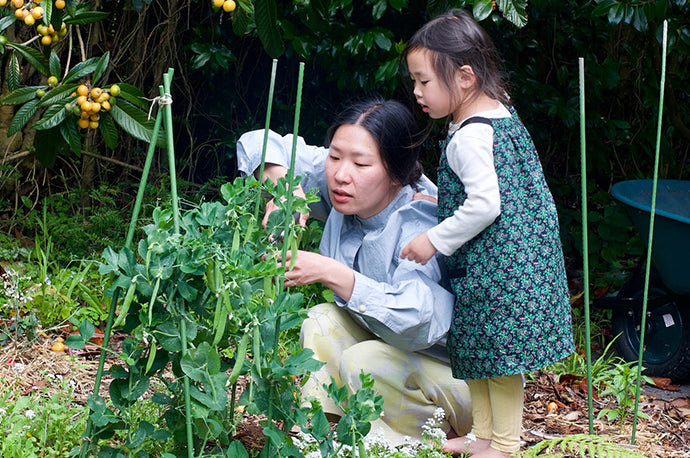 Daily Rituals with weaver Jungeun Lee + artist Seung Yul Ohu
An artist's home is always the most interesting. What one keeps on display, to inspire ideas or trigger sensations, can reveal their true character or even conceptual motivations. At the home of weaver Jungeun Lee + artist Seung Yul Ohu, we find an assortment of clever, humorous and intentional pieces, each kept to encourage a certain way of living — dipped in play, but ultimately joyous. These images capture the vibrant duo at home with their daughter Ōhu enjoying tea and pancakes in the garden. 
Can you share one of your daily rituals?
Seung and I work mainly at home, so it is important to us how we spend our mornings while our daughter Ōhu is at kindergarten.
After she leaves, I sit at my loom with a warm drink, clearing my head for a while in the sun. No matter how occupied I am with other things, I do a bit of weaving in the morning. This practice is essential to me - like ringing a bell to start the day.
Can you share a moment you have with tea each day? 
We like to feel the weather in the seasons and sensitively respond to temperature and humidity with what we choose to eat. When the southern chill blows in the rainy season, we like to sit at the table with spice-filled chai latte and light a candle, which makes everything cozy. When the warmer spring breeze begins, we cold-brew a pitcher of floral or berry tisane then go to the garden with bare feet, step on the warm ground — the two harmonise perfectly.
What are some of your favourite things to cook at home together?
Sunday pancakes! We love any recipes, any type of pancake, but there's a must-do rule: HONEY.
Can you tell us about your favourite space to be in at home? 
I love Ōhu's little hideout we built together. It is under the magnolia tree, so we call it Magnolia Hut. We sit and have popsicles after kindy, sometimes make a fire and roast kumaras. 
Why has starting to grow a vegetable garden been important to you as a family?
During the first lockdown, I felt like I craved some physical activities for my state of mind. In the beginning, we cooked a lot like everyone else, then made a couple of bits of furniture we needed. Through that I recognised the importance and joy of sourcing essentials with our hands.
A lot of things are happening in the small ecosystem of our home garden, I am so happy to be a part of it as another living being. I can't say that gardening has been my old dream, but I have always kept Hesse's gardening essay as my best book.
What are some of your favourite places to visit with your daughter Ohu?
A Titirangi bush walk on a rainy day. Visiting the closest swimmable bay around where we are at the moment. Happy Valley Henderson Farm. And going to the bakery to get a pain au chocolat. 
How do you keep your creative endeavours fuelled?
I need to spend my creative energy to value myself and stay happily focused on my family. Equilibrating between work and family life without being overwhelmed is the biggest personal challenge in my 30s because it does affect my whole motivation. The two are related like a self-powered generator to me. When the balance is right, the creative desire comes on its own and always seems to show better results. "Happy me" makes "happy pieces".