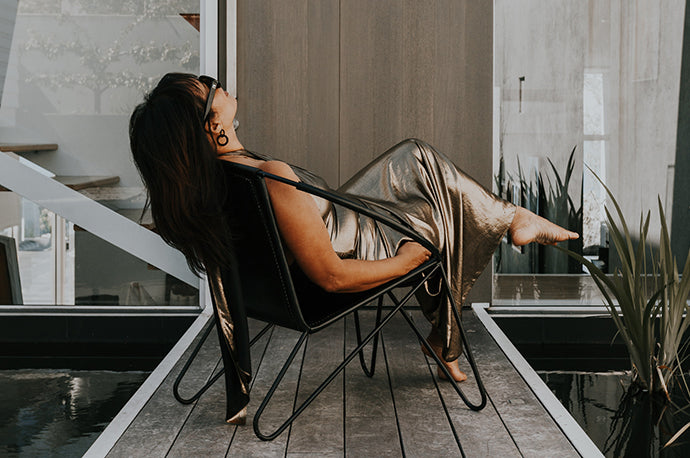 Tea and me, together for life!
Sanctum Medical Aesthetics is a leading-edge cosmetic medical practice combining state of the art technology with expertise. They believe in ageing intelligently and are passionate about helping their clients discover their best skin. Founder, Doctor Asha Ram spoke with us about her journey with Sanctum, art and life out of Covid, and her love affair with tea.
How Sanctum Medical Aesthetics came to be
Following a time of great transformation in my personal life, the concept emerged almost overnight. It was to create an urban skin sanctuary providing a unique skin concierge service in a private, cocooned and nurturing environment. Multiple sensory experiences would soothe, comfort and uplift while leading-edge science-based treatments assist men and women to age intelligently, and enhance their confidence and self-esteem.
My favourite time of day is dawn
For as long as I can remember I have loved the sense of excitement and expectancy that being on a cusp brings. I live at the water's edge and can see the horizon from my mezzanine level bed. The changing light of dawn and awakening scene on the water brings infinite calm and is the perfect canvas for reflection and creativity.

Home is my refuge
It affords my ultimate privacy and seclusion from the outside world and life with all its complexities! I am so fortunate to live in the perfect home for me. Close to water (I am deeply coastal in my roots), a home filled with light and space, a view from every room, a stunning library filled with my favourite art, poetry and design books... the glass walls allow the lush garden in while I sip tea on my giant daybed and explore piles of books regardless of the weather outside!

Art coming out of the Covid period
I think art from this period will reflect the full gamut of human response to uncertainty and adversity. There are so many layers to this pivotal point in history we are living through. The restrictions to our freedoms, the interminable uncertainty regarding the duration of lockdowns, freedom of movement and social interaction. A huge influence on my art is the redefinition of touch as potentially dangerous and unhealthy in terms of viral transmission and the effect this has on human intimacy. Human touch is a biological need, and has now taken on greater risk and intimacy at every level has to be practiced in new and innovative ways.


My thoughts on our new way of living
My lifestyle involved several trips overseas each year to New York, London and Italy for my various projects, art study, visiting family and friends and exploring new frontiers for Sanctum. I have adult children living in three different states and I would hop on a flight to visit them without a second thought. All of that was curtailed overnight and it was like hitting a brick wall at incredible speed and coming to a screeching halt.

Now that I have had time to adjust I am grateful for the ease and privilege of travel opportunities I had, I relish the time I am still and at home, and I look forward to a new future with mindful travel and connections.

My life will be vastly altered as we emerge. I will value home and stillness more and will bring many new habits to my daily life at home and work. All the lessons appear to include a slowing down of pace, a greater comfort with the unknown and a deeper more considered connection to loved ones and community. I am more reflective, have embraced my deeply concealed inner introvert, have loved my deep dives into philosophy, poetry and art, and have consciously and gently curated those in my inner circle as I search for genuine connection and exploration of this new way of living.

How I keep well
I keep well by reserving parts of every day for me. It sounds so simple but when you are keeping a multitude of balls in the air as all my different interests, projects, and work responsibilities involve, stillness and space are so easily eroded. What I do with this time varies but often includes long walks with someone I love exploring ideas with, weekend coastal drives with eclectic playlists I have curated and a sketch pad on deserted roads, altars of candles around my home and settling with cups of tea with piles of books on an overstuffed sofa and watching the wild Tasmanian weather play with water just below my cliff edge!

Tea and me, together for life!
My first memories of tea are so special! My paternal grandmother (Aaji) was a fierce matriarch but on Sundays when we visited she would brew strong sweet Darjeeling tea on her stove top and if we were in favour we were served our own small enamelled bowls of tea to enjoy silently as the adults indulged in weighty conversation as Aaji held court. Add to this my own mother's aristocratic upbringing where the serving of tea and pairing with culinary delights and careful conversation was an elevated art form.

Tea has been so much more than a drink... it was a friend to witness hours of predawn study to wind scholarships and get through medical school, it has witnessed grief and heartache and has been shared in the most joyous of celebrations. Cradling a beautiful vessel with wafts of fragrant steam filling my senses has to be one of the greatest comforts of my life!

I start my day with a pot of fragrant black tea (currently bingeing on S+I Coconut Chai) taken back to bed to sip on as I catch up with global news, family messages, a podcast and maybe some writing (I love writing poems).

My work desk has a carafe of S+I Morning Detox Tea and a Moroccan tea glass on it when I arrive. If I haven't finished it by lunchtime my staff are unforgiving and it is refreshed for the afternoon.

I drink a weak non-caffeinated tea hours after dinner... to bookend my day as I read in bed or listen to music for my next playlist. I have learnt to be as mindful about the tea, its origins, health benefits, ethical production and storytelling, as I am with so many other aspects of my life! I truly believe it is the quality of the interactions we have with people and with our own repetitive rituals that have perhaps the greatest impact on the quality of our lives.