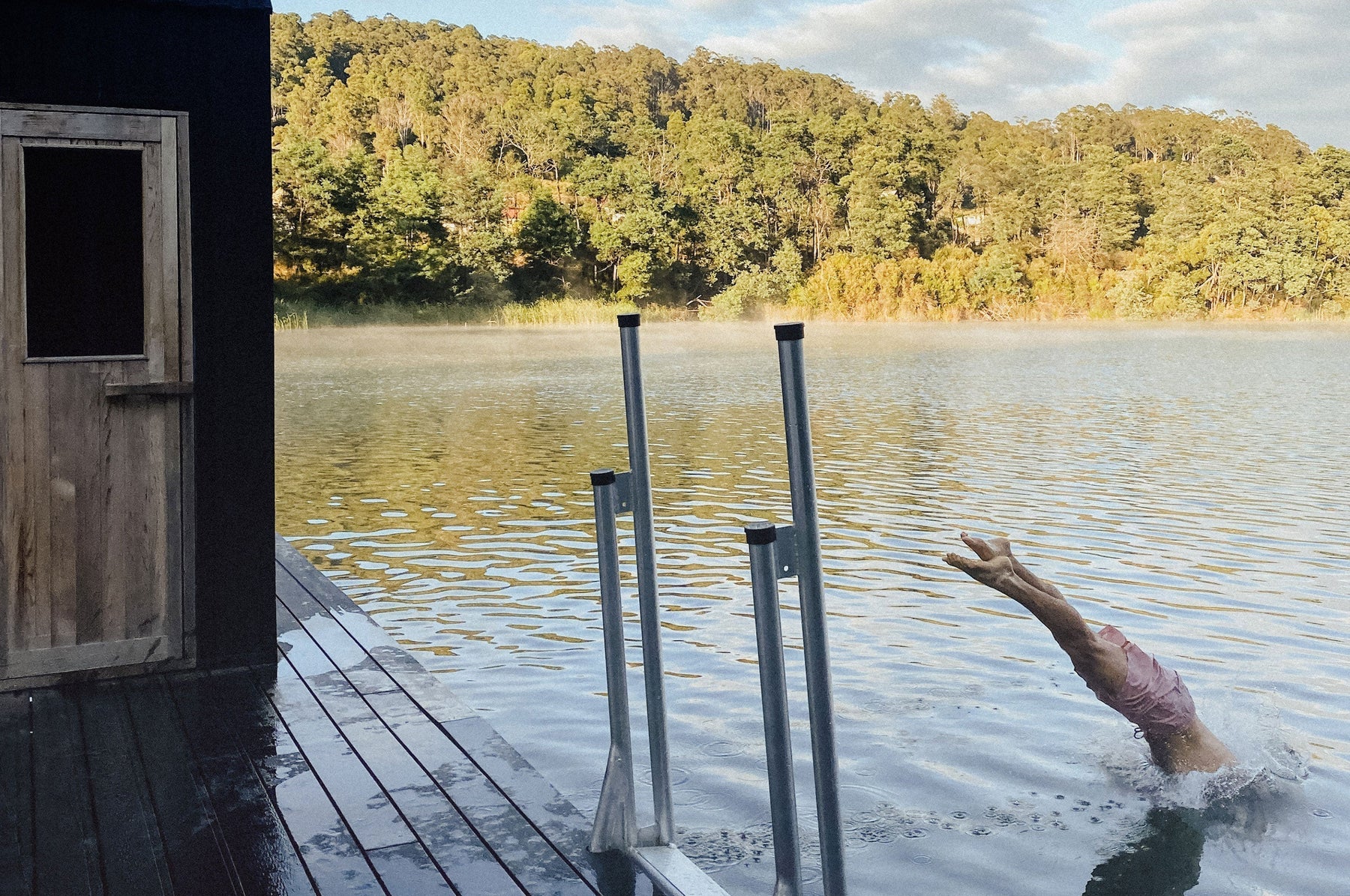 Visiting a floating sauna in Tasmania
With the new year in full swing we're making the most of hitting refresh this January. There's no better time of year to check in with yourself and listen to what your body needs, so we're excited to keep sharing with you our wellness rituals we're adopting to kick start the new year.

This week we travelled from our home at Lagoon Farm to one of Tasmania's newest wellness offerings - the Floating Sauna Derby. This nordic inspired sauna in the Northeast of Tasmania has been getting a lot of attention of late and we couldn't wait to try it out for ourselves.
The Sauna Ritual
With its unique location on the edge of the freshwater Derby lake, the floating sauna is a great opportunity to try a hot sauna cold plunge. Tasmania has quite the reputation for having a colder climate, which couldn't be better suited to this bathing ritual.

Typically the best way to experience a hot sauna and cold plunge is to spend twenty minutes in the sauna, followed by a cold water dip. And while the temperatures of Tasmania's lakes are a little more forgiving in the summertime, in the winter you can really get a feel for this wellness ritual.

Before we made our way out to the floating sauna we made sure there was time for a pot of Imperial Earl Grey tea. This is our favourite tea to kick start the morning as it is rich in antioxidants. This darjeeling black tea will help reduce inflammation and contains a delicious addition of orange peel, high in vitamin C, to help boost collagen production.
The benefits of a hot sauna with a cold plunge
While saunas are quite popular in Western wellness rituals, many people are yet to discover the benefits of this Nordic tradition. Hot saunas are a great way to fight inflammation and the hot sauna cold plunge technique can also help with joint-relief. This has made the tradition quite popular among busy professionals who don't make the time for wellness in their every day lives.

A hot sauna followed by a cold plunge or cold shower will also help with improving your blood flow. For this reason the technique has been adopted in various cultures around the world, like throughout the Nordic countries and as part of the traditional Moroccan hammam ritual.

After our sauna sessions and cold plunges into the lake, we followed our wellness morning with a warm cup of Rooibos Chai Tea. This delicious red-leaf tea blend will help you stay zen for longer, as it is full of aromatic flavour and will warm you from the inside out. 
Around Derby
If you are looking to spend more time in this part of Tasmania, the good news is there are plenty of great activities on offer. You might remember our interview with Tara Howell, the inspiring co-founder of the Blue Derby Pods Ride. This luxury mountain biking experience can be enjoyed over three or four days and offers adventure seekers the opportunity to ride the Derby mountain biking trails with an experienced guide.

If you are already an experienced rider, you might wish to visit the Derby mountain biking trails on your own accord. There are a range of great accommodations on offer in the town and you'll be just a short ride away from your next big adventure.